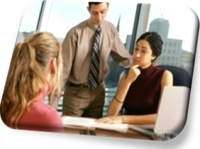 High Performance, Professional IT Consultants Tailored to Your Needs. We can rapidly deploy a single consultant or a team of consultants to meet your needs, short term or long. A "Right Now" Attitude - Nothing is more urgent for Strategic requirements than getting you the right people where you need them, when you need them. Our consultants are committed to ensuring the success of your information technology project. They are talented, Responsible, Responsive, Motivated, Dedicated, Skilled, Screened and Pre-qualified

Project Management
At e-Data, we understand project management is critical to successful planning, deployment and implementation of IT projects, including management of budgets. Our professionals are trained and skilled in project management methodologies, including planning, feasibility analysis, establishment of project objectives, tracking how tasks and goals will be achieved, as well as identification of resources needed and budgeting.

In addition, some of our consultants' credentials include certification from the Project Management Institute (PMI) or the Six Sigma designation

Business Analysis
Our consultants follow a structured approach for defining project scope and requirements; this helps tighten the project development life cycle. They work with you to gather project requirements and present them in a structured fashion that is understandable and actionable for the IT team, while meeting your business goals.

Further, our professionals link the business analysis to overall project management to ensure adherence to implementation timelines and budget. We provide subject matter experts in your software application who are knowledgeable in your industry.

Testing/Quality Assurance
Our consultants are well versed in IT quality assurance methodology, tools and techniques. Our analysis specialists and quality assurance consultants provide quality assurance software testing, in addition to automation, load, functional, server performance, and system usability testing.

The Quality Assurance Analyst contributes to the continual improvement of the quality of service provided to internal and external customers by providing system support and administration, customer service, data analysis, research, and reporting.

Networking - Security - Firewall
e-Data has professionals that are knowledgeable in planning and designing LAN, WAN using various technologies such as CISCO Technology, defining IP addressing schemes, and determining appropriate routing protocol based on user requirements. Our WAN consultants are knowledgeable in the new service offerings, such as Frame Relay and Asynchronous Transfer Mode (ATM), providing new options to complement existing leased-line, private networks.

Our professionals provide relevant security knowledge for the Information Technology environment to prevent the danger of virus attacks, email hackers, and other security threats. As administrators, their understanding of security infrastructure enables proper configuration of networking security systems in order to control the traffic between different zones of trusts, restrict communications forbidden by the company security policy and allow connectivity based on least privilege principles.