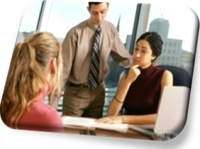 e-Data's Managed staffing services program's primary objective is to streamline the flow of IT consulting requirements as well as standardize a structure and monitor the hiring of consultants. This service can save time and money by managing recruiting and staffing process. Our unique and customized solutions help achieve increased efficiency. We do this by:


Understanding Your Current Processes

Experiencing your new hire orientation strategy, learning about your products, services, industry and studying your corporate culture.


Preparing Your Job Descriptions

Meeting with your hiring manager to discuss job requirements and then writing the job descriptions for your approval.


Developing a Custom Search Strategy for You

Formulating a tailored recruiting strategy with you, looking at potential sources such as competitors and related companies in your industry, professional associations, and industry networks.


Managing the Screening Process

Develop screening questions that meet with your approval and screen any resumes received from recruiting, board postings, job searches and advertising responses.

Conduct the first interview for you.

Coordinate and schedule interviews with your hiring manager.

Perform reference checks with your hiring manager and again at the offer stage.


Delivery

Strategic Careers helps prepare the offer.

Strategic Careers extends the offer and delivers the new hire.